Discover more from The Entertainment Strategy Guy
The best writing on entertainment strategy including a weekly "Streaming Ratings Report", unpacking what shows and films are winning the streaming wars.
Over 9,000 subscribers
The Entertainment Strategy Guide to 4-Sep-20
Netflix as a Broadcast Channel, Roblox's content concerns, licensed content and more...
Welcome to the Entertainment Strategy Guy Newsletter! My favorite reads, listens, socials and more to keep you informed on the business of entertainment, with the links to my recent writings.
The end of August was a bit light for the Entertainment Strategy Guy. Between an (in progress) redesign of the website and another big outside project, I couldn't write as many articles as I hoped. However, September should be a good one as I dive back into "the Streaming Wars".
(If this email was forwarded to you, sign up to receive all future emails or follow me on Twitter, Linked-In or at my website. 
The Best of the Entertainment Strategy Guy
"Who Will Win the Battle for the next "Game of Thrones"?: How 'People' Change the Odds of Success" at my website.
Until robots replace all our jobs, we will need people to make TV series. As I explore which future TV series has the best chance to be the "next" Game of Thrones, that means I need to analyze the talent involved (mainly the showrunners). It turns out most showrunners are "average". I explain what this means and the implications of that in my latest entry in this series.
"Visual of the Week – Is Netflix is a (More Watched) Broadcast Channel?" at my website.
While streaming boomed for everyone in quarantine in America, Netflix actually grew its share according to Nielsen. Check out the article for other insights, including whether I think this is "statistically significant" and what may have caused the boom in viewing.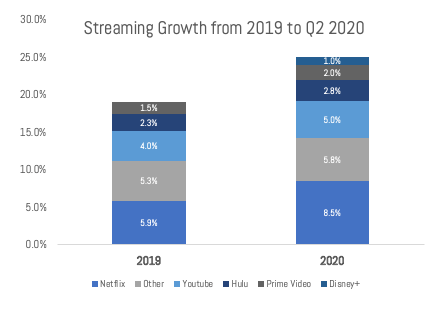 "Most Important Story of the Week - 28 Aug 20: Are Theaters Back?" at my website.
With all the uncertainty in the post-coronavirus world, my range of outcomes is pretty wide. For theaters, that could mean everything from a return to normal in 2021 to a wave of bankruptcies by the theater chains. The return of blockbusters this fall could presage which direction we are headed. Based on the evidence so far, I make both optimistic and pessimistic cases for theatrical moviegoing. That plus Kevin Mayer departing TikTok, Joe Budden and Spotify, and more.
"Most Important Story of the Week - 4 Sep 20: The Fall of Fall (TV Advertising Revenue)" at my website.
If I have some optimism for theaters and the theatrical window, I don't share the same optimism for broadcast TV. It won't die as quickly as some headlines indicate, but it isn't a growth industry anymore. Worse, Covid-19 is a perfect storm of cancelled live sports, weak content because of production pauses, and advertiser shakiness due to the recession. In short, fall will be "sub-optimal" for traditional linear TV.
Read all about that, plus what Nielsen and FlixPatrol say about Netflix ratings (and the importance of licensed content), AT&T selling assets, the addressable market for streaming and more.
Twitter Threads
My best tweets from the last two weeks start with an interesting observation about Apple sucking up video data on iPads:
Then, I made an observation that theaters and streaming are not substitutes.
Finally, I had even more thoughts on theaters going into last weekend.
The Best Content of the Last Two Weeks
These are the best reads, listens, newsletters, or social conversations I came across recently.
Long Read of the Week - "Sex, lies, and video games: Inside Roblox's war on porn" by Burt Helm at Fast Company
Is any platform safe for kids on the internet? Maybe not!
This good read in Fast Company dives into the dark side of Roblox, the gaming site built from user-generated games for kids. Joining current "bad for children champion" Youtube, it turns out that whenever folks can put up any content they want, it gets dark fairly quickly. (Both Youtube and Roblox are insanely popular with children.) To their credit, Roblox takes the issue seriously—at least more so than other platforms—though they could do more. Long term, I wonder if streamers like Disney and Netflix can take advantage by offering safer spaces for children. Maybe, but they don't have the social elements that really drive engagement.
Warning: The article is dark and filled with disturbing descriptions of the behavior on the site. Also, hat-tip to Rick Ellis for pointing the way.
Other Long Read - "Netflix and Amazon Elbow Way Into Talks on Streaming Hollywood Hits" by Lucas Shaw in Bloomberg
If the streaming wars are a war, one of the key battles will be over the precious resource of "licensed" content. That's the point in this article by Shaw, which describes how Universal, Sony and maybe Paramount are all being courted by HBO, Netflix, Amazon, Hulu and others for their top tier films. Licensed content is a key piece of terrain in the streaming wars and, as my last column showed, still a big part of all viewing on Netflix.
Other Long Read - "The gig-less economy: what could a post-pandemic dance music scene look like?" By Chal Ravens in DJMag
This article combines EDM culture with a look at the rivals to the current tech giants in music streaming. Overall, I'm fairly pessimistic that anyone can stop the tech giants when it comes to supporting artists, but there are at least a few good options. That said, long term the only real "solution" for EDM to thrive is for live events to return, as disappointing as that is for DJs and other producers, who may have to wait until the middle of 2021. (Hat-tip to the Penny Fractions newsletter for flagging.)
Non-Entertainment Read - "Focused Conferences Will Come Back Stronger Than Ever, Because of What Makes Us Human" by Dan Rayburn
Dan Rayburn helps organize conferences for a living (among other things), so there is some potential self-interest in this take. That said, I 100% agree with Rayburn: the in-person business conference is not dead. The value of interpersonal relationships is too great and not fully replicated by online presentations. As he recommends, content is king and conferences with good content will succeed even after Covid-19. He also focused repeatedly on the customer, which is good business advice no matter the industry.
Newsletter of the Week - 1 Billion Americans Newsletter on "Apple the Slumlord" by Matt Yglesias
I love a good analogy, and Yglesias hits the nail on the head for describing the Apple v Fortnite (et al) battle looming. In this case, Apple neglects the App Store (and other services like Apple News and podcasts) because it can make just as much money by doing much less. Just like a slumlord. (Yes, I'm a huge fan of Yglesias' wonky takes and am eagerly looking forward to reading his book.)
Twitter Threads
Will the NFL be popular when it returns? Probably.
(Feel free to share this free newsletter to any and everyone you want. It helps spread the word.)
(If this email was forwarded to you, and you're wondering who I am, The Entertainment Strategy Guy writes under this pseudonym at his eponymous website. A former exec at a streaming company, he prefers writing to sending emails/attending meetings, so he launched his own website. You can follow him on Twitter or Linked-In for regular thoughts and analysis on the business, strategy and economics of the media and entertainment industry.